LCA's Caring Professionals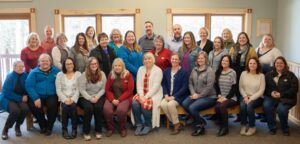 Back Row: Spike Wellman, Stacy Luetgers, Noelle Goriesky, Shawn Anderson, RJ Wattenhofer, Alicia Holley and Loretta Bach
Middle Row: Jean Greseth, Beth Tobiason, Lisa Smith, Monica Baso, Sarah Elstad, Tami Liegland, Jessica Niemi, Da'Nel Chase, Deanna Murphy and Diane Cerven.
Front Row: Marilyn Spensley, Kari Tomperi, Vicki White, Kate Dierkhising, Cheryl Baker, Hyacinth Mosse, Ellie Anderson, Katherine Meyers, Jacinta Putnam, Laura Kirlin and Jennifer Miller.
 Not pictured: Laura Kempnich, Caleb Roiko, Christina Olson, Nicole Brown, Judy Hoopman and Susanne Holmen.