A Guide to LCA Virtual Groups and Drop-in Hours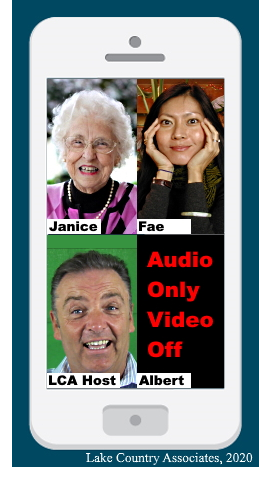 by RJ Wattenhofer
Whether you are a person who has attended LCA Cottage groups and drop-in hours in the past or are a first-timer, this guide will show you how to connect virtually through computer or phone so you can begin participating and expand your social support network.
Trying something new can be intimidating and so if you do not feel comfortable "jumping right in" you have the option of turning off your video and entering the Zoom room with a black screen (see picture) which will give you the opportunity to simply look around until you feel ready to participate.
The first step is to download and install the "Zoom Cloud Meetings" app. You can find this in your phone's app store.
The second and final step is to find available days and times of groups and drop-in hours.
Click this link to view the LCA Calendar of Events: CALENDAR
Ready to get started? Click this link to join: https://zoom.us/j/4239727228
If you wish to attend with audio only (no option to turn on video) you can click this number to join via phone call: +13017158592 ,,4239727228# – listen for the code to auto-dial and the woman to finish speaking and then push # to join. If you do not own a smartphone then you will want to use the audio only feature. You will need to hand dial in both the phone number and access code.
NOTICE: All events are screened and carefully monitored to ensure confidentiality of participants and to eliminate potential external disruptions of services.